Day 1 :
Keynote Forum
Chief of Health Operations, Michigan, USA
Time : 09:50-10:15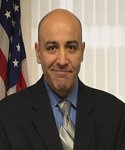 Biography:
Mouhanad Hammami is a graduate of Aleppo University, Syria and completed his Postdoctoral research in Pediatrics at the Newborn Center of the University of Tennessee in Memphis, and then accepted a faculty appointment at Wayne State University School of Medicine in Detroit, Michigan and a research position at the Detroit Medical Center, Department of Pediatrics. In 2006, he was granted the American Medical Association (AMA) foundation for Excellence in Medicine and Leadership award for his public health advocacy and community work. He was awarded the "Health Policy Champion Award" by the Michigan Department of Community Health in 2011, Arab American of the Year in Medicine in 2012 and nominated by the White House for Heroes for Health in 2013. He served as Executive Director of the National Arab American Medical Association (NAAMA) from 2006 to 2009 and then elected as National President for 2011. He currently serves as the Chief of Health Operations of Wayne County Department of Health and Human Services and County Health Officer for Wayne County where he oversees all health related operations for the 13th largest County in the Nation. He is responsible for promoting and assuring health and quality of life by providing, maintaining, developing and coordinating a wide-range of innovative and fiscally responsible educational and health services including technology intitatives. He is a member of several professional and honor societies and has many publications in various peer reviewed medical journals.
Abstract:
Abstract : More babies die before their first birthdays in Wayne County and the city of Detroit than in many parts of the United States and the World. Sadly, the infant mortality rate in this region has been extremely high for several decades. This is unacceptable. It inflicts tragedy on families and costs billions of dollars in medical care. In addition, the infant mortality rate, the number of babies per 1,000 live births who die within the first year of life is an important indicator of a community's health. In addition to overall high infant mortality rates, racial disparities also exist. Black babies in Wayne County and Detroit are more than twice as likely to die before their first birthdays as white babies. In Wayne County (excluding Detroit), the Infant Mortality Rate is 11.9 deaths per 1,000 live births for black babies (the same as some Third World Countries) and 5.9 deaths per 1,000 births for white babies (2008), according to the Michigan Department of Community Health. The rates in Detroit are even higher: 13.4 deaths per 1,000 births for black babies and 5.4 deaths per 1,000 births for white babies for the same year. Addressing the social determinants of health which are the conditions in which people are born, grow, live, work and age is important to understand how these factors contribute to infant mortality rates. These circumstances are shaped by the distribution of money, power and resources at global, national and local levels, which are themselves influenced, by policy choices. The social determinants of health are mostly responsible for health inequities - the unfair and avoidable differences in health status seen within and between countries. These factors include where a girl or woman lives and goes to school, what she eats, how she's perceived and treated, whether she has a good job with equal pay, the quality of her relationships, and the extent to which she's affected by racism. An "upstream" strategy is a radical departure from the traditional, "downstream" methods that have been tried for decades but have had limited and sporadic results. Traditional downstream interventions may be too little, and too late. rn
Keynote Forum
Illinois Masonic Medical Center, USA
Time : 09:00-09:25

Biography:
Dr. Elliot M. Levine received his Bachelor of Science from the University of Wisconsin at Madison in 1974 and his MD from the Chicago Medical School in 1978 and completed his Residency in Obstetrics and Gynecology at Illinois Masonic Medical Center in 1982. He has been Board Certified in Obstetrics & Gynecology continuously since 1984. He is a member of a number of medical societies including the American College of Obstetricians and Gynecologists, the Chicago Gynecological Society, the Central Association of Obstetricians and Gynecologists, and the American Medical Informatics Association, to name a few. His involvement in research, education and Quality Assurance has allowed him to author numerous articles in medical journals, leading him to often lecture to physician audiences. He has served as Director of Informatics and Research in a Department of Obstetrics & Gynecology for well over a decade and as a Physician Director for the implementation of an Electronic Medical Record System in a large healthcare system. He continues to have a general gynecology practice, and has been listed in America's Top Doctors for over a decade.
Abstract:
Objective: A comparison was made of episiotomy rates and the rates of advanced perineal lacerations (APL) between different modern times, in order to view the likely consequences of performing episiotomy at vaginal delivery, and to consider applying this to obstetric quality standards.
Study Design: A Structured Query Language (SQL) perinatal database, used in a community hospital, was used to investigate the prevalence of episiotomy performed at vaginal delivery and the incidence of APL, for a comparison between different time periods. The type of obstetric provider, the type of episiotomy if performed, any associated operative procedures, neonatal birth weight and Apgar scores, estimated blood loss, and other obstetric variables were reviewed. rnrnResults: The average episiotomy rate steadily declined from 1996-1998, 2003-2005 and 2012-2014. The rate of advanced perineal lacerations coincidentally rose during these time period comparisons.
Conclusion: Obstetric providers may need to consider the likely outcome at vaginal delivery when considering to perform an episiotomy. Quality standards may need to more properly focus on the incidence of APL, rather than the episiotomy rate, given the clinical data that the authors examined.rn
Keynote Forum
University of toledo ,USA
Time : 09:25-09:50

Biography:
Michael Kleerekoper, MD, MACE, has joined the faculty at the University of Toledo Medical School where he is a Professor in the Department of Internal Medicine and section chief of the Endocrinology Division. He is also the author of numerous journal studies, Kleerekoper serves on the editorial boards for Endocrine Today, Endocrine Practice, Journal of Clinical Densitometry, Journal of Women's Health, Osteoporosis International and Calcified Tissue International. Dr. Kleerekoper is also a founding board member of the newly formed Academy of Women's Health.
Abstract:
Osteoporosis is more common in postmenopausal women than in men of similar age. In those women who are not treated for menopause are more likely to develop bone loss and an increase in minimal trauma fractures. The current recommendations are that bone mineral density (BMD) should not be assessed before age 65 but one or two programs recommend an age 60 for the first Dual Energy X-ray Absorptiometry (DXA). Women who have additional post-menopause medical conditions and/or medications may have increased risk of minimal trauma fractures before age 60. DXA studies should be accompanied by laboratory studies that include serum calcium, serum creatinine, and 25 hydroxyvitamin D, as well 24 hour urine collection for calcium, creatinine, sodium, uric acid, and oxalate. Management is dependent on the bone density and biochemistry. The biochemistry includes markers of bone resorption i.e., C-terminal telopeptide of type 1 collagen (CTX), and bone formation i.e., bone alkaline phosphatase (B-ALP), C-terminal propeptide of type 1 procollagen (P1CP) and N-terminal propeptide of type 1 procollagen (P1NP). Regrettably the majority of DXA studies are performed and reported by bone density technicians and clinicians who have not been appropriately trained in the conduct and reporting of DXA and therapy is often incorrect. Once diagnosed as osteoporosis, there are several anti-resorption products that have been approved by the FDA or are in progress and teriparatide has been approved for stimulation of bone formation. Once a diagnosis of osteoporosis and appropriate therapy has been established, measurement of biochemical markers should be obtained at 6 monthly intervals until the levels are stable. If bone density is stable for five years, the therapy can be discontinued and biochemistry analyzed at 6-12 monthly intervals. More recent studies in progress include high resolution measurement of the distal radius and tibia using either high resolution Magnetic Imaging (hrMRI) or high resolution Dual energy X-ray Absorptiometry (hrDXA). hrDXA is also being study in the spine and proximal femur. These studies provide improved evaluation of skeletal health. Details of the above aspects of skeletal studies are shown in the accompanying illustrations and images.rn