Venue & Hospitality
Holiday Inn Paris - Porte de Clichy 2 Rue du 8 Mai 1945, 92110 Clichy, France
Conference Dates: November 14-15, 2019
Hotel Services & Amenities
Audio/Visual Equipment Rental.
Business Center.
Business Phone Service.
Complimentary Printing Service.
Express Mail.
Fax.
Meeting Rooms.
Office Rental.
Photo Copying Service.
Secretarial Service.
Telex.
Typewriter.
Video Conference.
Video Messaging.
Video Phone.
ATM.
Baggage Storage.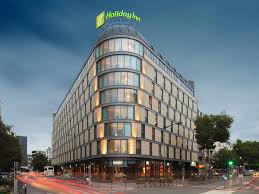 Transportation
Driving Directions from Charles de Gaulle Airport to Holiday Inn Paris - Porte de Clichy
2 Rue du 8 Mai 1945, 92110 Clichy, France Distance from Airport to Hotel: 28.9 km
Time period: 39 min
Get on A1
Head east
Slight left
Keep left at the Y junction, follow signs for A1/Saint-Denis/Cergy/Pontoise/Paris-Centre/Paris-Porte de la Chapelle and merge with A1
Continue on A1 to Paris. Take the exit toward D911/Porte de Clichy from Bd Périphérique
Merge with A1
Continue straight to stay on A1
Use the right 2 lanes to take the exit toward Rouen/Périphérique Ouest
Merge with Bd Périphérique
Take the exit toward D911/Porte de Clichy
Drive to Rue du 8 Mai 1945/D19 in Clichy
Turn right onto Rue du 8 Mai 1945/D19
Turn left to stay on Rue du 8 Mai 1945/D19

Destination will be on the right
Holiday Inn Paris - Porte de Clichy
2 Rue du 8 Mai 1945, 92110 Clichy, France

About City
Paris, the cosmopolitan capital of France and one of Europe's largest cities, wherein the total Population accounts for 2.2 million people in the center of the city, while 12 million people are residing in total in the main metropolitan area. Being located in the north of France onto the shores of the river Seine, it has a very well deserved reputation image of being the most beautiful as well as romantic of all cities concerned, brimming with historic associations and remaining vastly influential in the realms of culture, art, fashion, food and design and lots more. Being usually called up as the City of Lights, alongside the Capital of Fashion, it paves its way out to be the home to the world's top elegant and most luxurious fashion designers and cosmetics, to site as, Chanel, Dior, Yves Saint-Laurent, Guerlain, Lancôme, L'Oréal, Clarins. A large part of the city, including the River Seine, is a UNESCO World Heritage Site. Furthermore, it also has got the record of possessing the second highest number of Michelin restaurants in the world (after Tokyo). In addition to the above-mentioned, it is also noticed to contain numerous iconic landmarks, such as the world's most taken in tourist site exemplerically, the Eiffel Tower, the Arc de Triomphe, the Notre-Dame Cathedral, the Louvre Museum, Moulin Rouge, and Lido, as a result, turning it into the most popular tourist destination in the world with approximately 45 million tourists visiting annually. Transport visits are given by different organizations: City Rama, Vision, and Paris bus are a couple of substantial companies. The administration of France is to a great extent communist. Each French native is managed medicinal services given by the state. Charges are high—at times very nearly 60 percent of aggregate wage—however, the legislature gives most social administrations. Life expectancy for men is 74 years and for women, it is 82 years. There is one doctor for every 361 people, and infant mortality is five per 100 live births.